#WEREFTOO – An Interview with Robert Saccente Jr.
February 15, 2019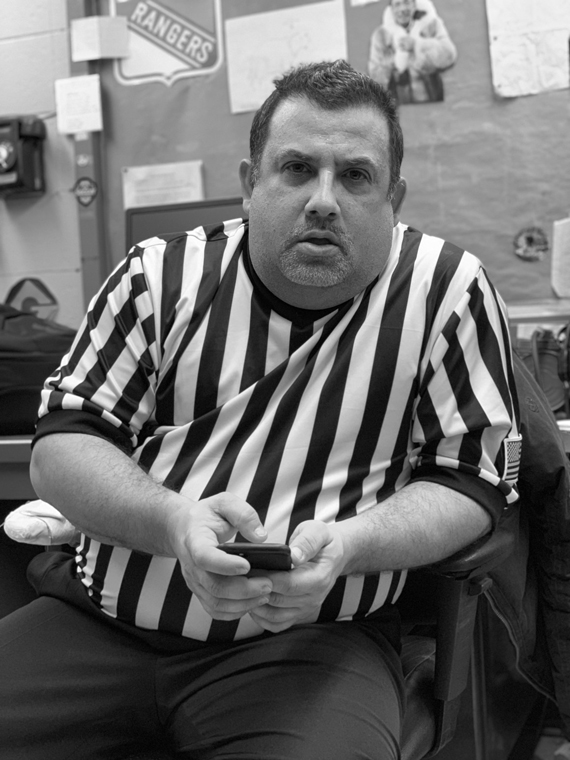 Can't You See?
You can only go as far as your mind takes you, we discussed that. Reffing takes every fiber of your neurons. It's mental in every which way. But imagine if you were disabled?
"To be honest, I never see myself as disability because of deafness. I am normal just like you. I CAN DO ANYTHING – BUT HEAR." – Robert Saccente
This is dedicated to April Coughlin, my professor for one semester at LIU Brooklyn, who taught me that individuals are disabled are SUPER HEROS. One of those individuals is Robeter Saccente Jr. I met him on the basketball court, as we did a middle school game. He was deaf, and inspired me to start this #wereftoo movement – I'd like to show everyone that officiating comes in all shapes and sizes, and even those that you think can't do it. But y'all don't hear me though. Here is my interview with Robert, resident super hero ref:
The handicap of deafness is not in the ear, it is in the mind." – Marlee Mattlin
Describe your childhood. How did you lose your hearing? I was born deaf. My parents are deaf and I have one brother and one sister are deaf as well.
How did it affect your upbringing? Nothing really affected my upbrining because we communicated with American Sign Language (ASL). I went to Lexington School for the Deaf in Queens and I went to Gallaudet University in Washington D.C., which is the only University in the United States to serve excuslively to individuals that are deaf.
What were the challenges? My biggest challenge is translating from ASL to English in a written form. I had to work harder to understand better and I still do work harder everyday.
How did other people treat you? – If you know me well, they always treat me equal. People that don't know me tend to treat me different – speak to fast, and leave me out. I just want to be included in a group.
How did your parents treat you? – My parents always treat me well and I love them for their respect and love throughout my upbringing. They have taught me well in through many different challenges. They went through hard times in the past because they don't have many resources that I'm afforded now. Times have changed a lot since the past in comparison to how it is now. Many people are now more aware of those that are disabled with deafness.
How did your peers treat you? My peers with hearing always treat me with respect, all while treating me as an equal. I don't want them to feel pity for me and give me an easy way out. I don't want that – I want them to be the same as me.
What is your relationship with sports while you were growing up? When I grew up, one thing was always constant – MY LOVE OF SPORTS. Sports always gave me and opportunity to interact with my peers as equals. That's what I like about it. Sports has a unique way of communicating, a universal way. We know the sports, and we could always communicate succinctly by playing it.
What sports did you play in high school? I played Basketball in high school. I also played Soccer, Softball, and Baseball during that time. I also played Baseball for Gallaudet University.
How did you get into officiating? I was a coach for many various sports for Mill Neck Manor School for the Deaf in Mill Neck which is located in Oyster Bay in Nassau County, on Long Island. The numbers of students were getting smaller. I love sports and I always have high respect for officials when they officiate my games. That's where I met Dusty Buckley, and I asked him how do i get into the officiating world. He just lead me right into it. First I took Boys Basketball, then slow pitch Softball, segued that to Girls Soccer, and Baseball. I just finished the Girl's Basketball class.
What made you take the Girl's Basketball Class? I just love the game, and I always felt their should be equality on the court at all times. They treat me with respect and equality. They know I have deafness but they doens't Prevent them from treating me like just any other official.
What are the challenges to elevate within your respective sports with regards to your disability? I always let coaches and my partners know that I am deaf. HOWEVER, I can read lips and I typically understand. I always let them know if they need to call time out, let me know face to face, wave at me to let me know. Or inform me that next time a basket it made your wishes. But if the game gets too intense, they tend to forget that I am deaf, and scream at me and talk to fast, which I completely understand and always tel them ok, I am deaf, please let me know sooner.
What are the advantages of being deaf while officiating? THE BEST PART OF THIS IS THAT I DON'T HEAR ANY NEGATIVE COMMETNS OR CALLS OR SCREAMING FROM FANS AND COACHES. IGNORANCE IS BLISS!
How would someone go about being an official with a disability? I know I am deaf, but I don't see myself as having a disability. I can do anything but hear. All I need to get is a sign language interpreter for class and attend important meetings. As for the written test, I just take them as the same as others, no modification. As for officiating games, I don't need a sign language interpreter to run up and down the court with me. I can work well with my partner by lip reading and some of them know little sign language (which is great.) Also, we have better technology, such as emails, texting, videophone for deaf. The most important is we work well together and everything will be good.